What percentage of my salary should I invest each month?
A question that often worries young earners is, "What percentage of my salary should I invest each month? Is 10% okay? Or should it be 20%?" Often this is asked when a person wants a quick rule of thumb to check if they are on the right track so they spend free from guilt. Unfortunately, there are several wrong questions that people ask when it comes to personal finance and this is one of them.
There is something weirdly comforting about a thumb rule. The answer to this question often is, "as a thumb rule, one should at least save 10% each month". Every equation has underlying assumptions buried deep within. A thumb rule has twice the number of such assumptions because it is often the simplification of a formula.
Young earners often make the mistake of assuming "they have no goals" just because they are single and their parents are healthy with reasonable financial independence. This is the best time to plan for financial independence – gradually reduce the dependence on getting up to work on Monday morning (even if it is from home).
In this day and age, there is no need for thumb rules. Using a calculator will take only about 30 minutes (most of the time would go in appreciating the inputs). Here are two examples. One for the US and one for India.
CNN Money had a "Will you have enough to retire?"  calculator applicable for US residents with extensive fine print. Sadly only the fine print seems to be available now! At least it does not seem to work on Chrome. Here is a screenshot.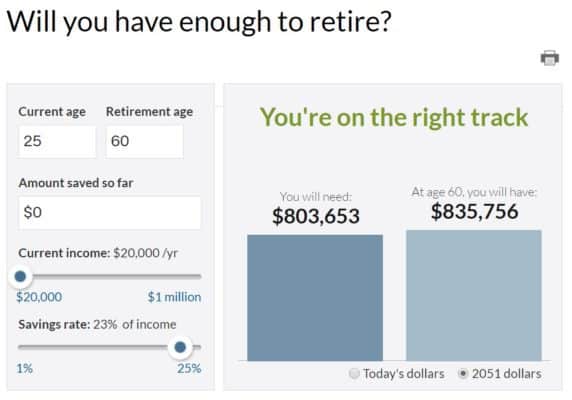 These are some key assumptions in the fine print:
longevity up to age 92
Social Security is factored in.
All calculations are pre-tax
calculated using an inflation rate of 2.3%
return is 6%
the inflation-indexed annuity rate is 6%
the current income grows at an annual rate of 3.8%
assume you can live comfortably off of 85% of your pre-retirement income
Notice that the savings rate should be 23% for a real return of close to 4% (return =6%, inflation is 2.3%) with social security available and tax has not been factored in!! It is folly to assume even for US conditions that investing 10% or 20% of income is sufficient. Our inflation (for the individual, not the govt declared value) is anywhere between 8-10% (assuming no lifestyle change expenses -good or bad).
Our portfolio returns (not just equity) will have to be at least 10-12% after-taxto combat inflation. Will we get that? Not if we have blind trust on "SIP". See: 15-year SIP returns for 71 out of 148 equity MFs is less than 10% and Ten-year Nifty SIP returns have reduced by almost 50%
Want an (unpleasant) Indian thumb rule?  Invest as much as you spend each month for normal retirement when you are unmarried with no dependents.
For early retirement in India (FIRE),  invest close to twice as much as you spend each month. Not impossible, but depends on your priorities (an understanding spouse and of course, luck*). I have managed to do this for the last 10 years or so and in spite of setbacks such as this – My retirement equity MF portfolio return is 2.75% after 12 years! – been able to maintain more than 30 times my current annual expenses. From borderline financial independence, I have got a little more comfortable. Also see Retirement Planning: My Story So Far and Analysis: My Mutual Fund Investing Journey.
This simple calculator can be used to find out what percentage of your expenses (not income) you should be investing for retirement. Will only take you about 5 minutes. Here is a screenshot with inputs that I would use.
The post-retirement rate of interest is 1% above inflation rate. For normal retirement, this is borderline reasonable and therefore, borderline dangerous. Recognise that is for 30 years later!! Who knows what will happen then! Better to be reasonable, err on the side of caution to start with, use the retirement calculator once a year with updated inputs. As retirement approaches, the numbers will become more accurate.
There are too many assumptions involved and while we can be reasonable with our inputs, the only security is to invest more, as early as possible. Another reason to do so is that as we age, unexpected expenses may increase. For example, we may need to take care of our parents. Repeat this calculation with new inputs each year!!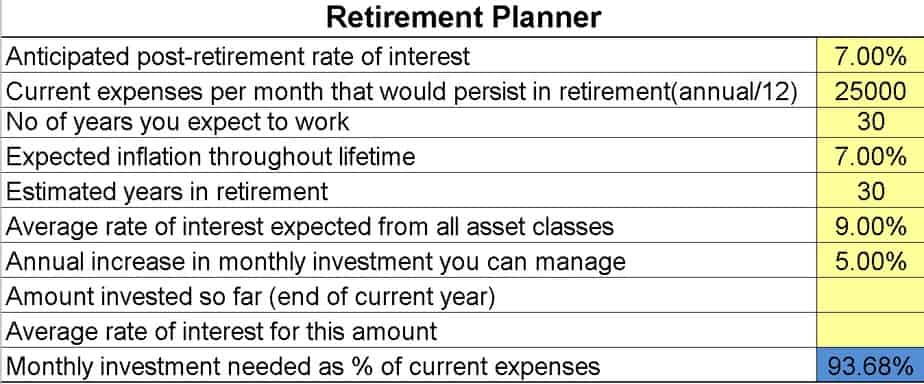 This is the origin of the "invest as much as you spend" rule of thumb (for normal retirement) Download the retirement calculator as a function of monthly expenses. This sheet will work on all platforms – Google sheets, Mac Numbers etc.
In summary, do not ask "What percentage of my salary should I invest each month?". Instead, ask, "What percentage of my expenses should I invest each month?". The answer is bitter medicine – as much as possible, ideally as much as you spend! As discussed in this article – How should I invest to get Rs. one lakh a month pension? – one lakh "pension" is grossly insufficient and even for that, we need a couple of crores!